Stihl SH56-CE Petrol Blower and Vacuum Shredder
Powered by a low emissions engine, this handheld shredder vac/blower features the STIHL ErgoStart system, making starting almost effortless. While a specialised shredder blade on the fan wheel reduces garden waste, this shredder vac also converts easily into a handheld petrol leaf blower.

Reduced-emission engine technology
2-stroke engine with stratified charge. A fuel-free layer of air is created between the burned charge in the combustion chamber and the fresh charge in the crankcase, reducing the amount of fuel lost during the charge cycle. This results in more power with a lower weight, up to 20% lower fuel consumption than regular 2-stroke engines and significantly reduced exhaust emissions.

Catalytic converter (D)
Considerably reduces the quantity of harmful particles in the exhaust gas.

Manual fuel pump (purger)
A small fuel pump delivers fuel to the carburettor at the touch of a button. This reduces the number of starting pulls required following extended breaks in operations.

STIHL ErgoStart (E)
A genuine advance in easy starting. STIHL ErgoStart (E) cuts the effort required to start the tool by half, while the starter cord can be pulled at just one third of the normal force. All it takes is 2 fingers and a gentle pull action.

Multi-function control handle
This houses all the engine controls. Easy, comfortable thumb-operated control means the operator's hand never leaves the handle.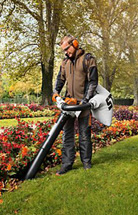 Integrated shoulder strap for vacuum bag
The integrated shoulder strap makes vacuuming for long periods of time less tiring. Allowing for much more movement whilst helping to support the weight of the collection bag.
For stock inquiries and for more information please contact a member of our sales team. 
Tuckwells tip – We recommend Stihl Motomix which is a ready mixed fuel (1:50) for all Stihl 2 stroke engines with a 5 year shelf life.
Service+
Warranties aren't just for new equipment, here at Tuckwells, we've made it easy for customers to access extended warranty plans for any machine up to 7 years old. Pair it with one of our proactive maintenance packages for maximum fixed-cost ownership. Our warranty and service packages ensure that you're covered for future losses, keeping your cost of operation at a minimum while increasing your uptime and machine productivity. Ask your salesman for a quote - the cost of our services packages may surprise you with pricing as low as £0.89 per hour!
Service+ Protect